Europe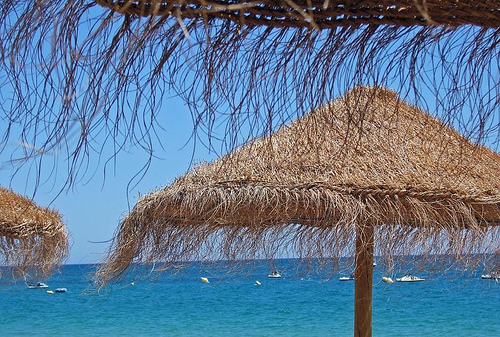 Published on February 22, 2011 | by Andrea Guerriero
0
Albufeira travel guide: a pearl in the south of Portugal
Albufeira, in the heart of the Algarve, at the extreme south of Portugal, in the district of Faro, is a town of 17,000 souls that in the summer turns into one of the most densely populated tourist centres of Europe.
But the tourism is here all year also thanks to low cost flights to Faro, in which airport, about 20 minutes away from Albufeira, landed passengers coming from all European cities. More than 5 million tourists visit the beaches and alleys of the urban centre of Albufeira which also includes the towns of Ferreiras, Olhos del Agua, Guia and Paderne.
Albufeira, which means "fortress on the sea" in Arabic, is a delightful village that despite the enormous development of tourist accommodation facilities started in the 60s of last century, has managed to maintain its original structure, made up of white and low houses overlooking white sandy beaches. Here, there is everything that the resort tourist may desire. From the previously mentioned beaches where to get bored, sunbathe or play beach volleyball, to the beach suitable for windsurfing and kite-surfing, golf courses, nightlife, restaurants and clubs of all types, from traditional Portuguese to international multi-ethnic.
A little bit of history
The extreme closeness to Africa has meant that the Algarve coast, where there is Albufeira, was a land of conquest by the Arab population, which, in addition to invade, among other things taught to the natives several culture techniques, far more sophisticated than those already charged. But in mid 1200's the Moors were defeated by Christian armies and so Albufeira became part of the kingdom of Portugal. The earthquake of 1755 wreaked destruction in a land that in the last 500 years had lived quiet among farming and fishing. The pick-up of these areas took place only in the second half of the twentieth century when the Algarve became internationally tourist area. Albufeira has thus become the heart of this development.
Things to see in Albufeira
For those tired of the beach, in Albufeira, there are several places and monuments to visit, residues of a ultra millennial history. As the clock tower, Torre do Relogio, landmark of the city, or the Sineira Tower, a bell tower with eight bells of nearly a hundred feet. There are several churches worth visiting. Among these, the neoclassical church of Igreja Matriz, where religious and military relics are preserved; the church of San Sebastiano, on the plaza of Miguel Bombarda; the Chapel of Mercy, an ancient mosque became a Christian site in 1500; the Chapel of Nossa Senhora da Ermida de Orada, which are dedicated various feasts and processions, especially in August. Don't forget to visit also the ruins of the Rua Joaquim Pedro Samara Castle and the Municipal Archaeological Museum in the town centre.
Food, entertainment and nightlife
The beaches of Albufeira represent places where you can spend hours, days and weeks dancing and drinking. Instead, for those who enjoy more classical locations, there are several discos, disco-pubs and live music clubs in the centre of the town, and also in the surrounding areas, such as Montechoro, Vilamoura and Boliquemme. There are a lot of restaurants with a multitude of dishes strictly containing fish and shelfish, in soups or grilled. For those traveling with children, there is to visit the Zoomarine of Guia, an Aqua Park with pools, but especially with an oceanographic park including dolphin shows and pools where it is possible to see large amphibians and fish such as seals, sharks and turtles.
How to get there and which accommodation choose
By plane you'll land in Porto, especially during the summer season there are numerous direct flights to Faro available from United Kingdom, in addition to TAP, Portugal airline, you can choose among low cost airlines such as easyJet and Ryanair. To find a return flight around 50 Euro it is not impossible so you can plan your weekend, short break or holiday in Albufeira without spending a lot of money!
Hotels in Albufeira are numerous and offer a good value for money (subject to the peak or low season), you will find also several accommodation in apartments.