Entertainment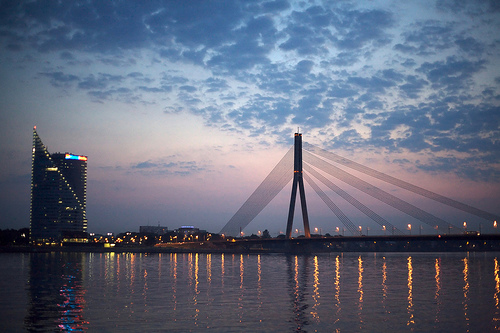 Published on July 22, 2011 | by Andrea Guerriero
0
Discovering Riga's charming nightlife style
Riga, all along a cosmopolitan city, founded in 1201, today attracts visitors for both its architectural and artistic beauty, and also because it is considered one of the most exciting cities in Europe – a city that never sleeps. Although this city is often visited by groups of cocky young men in seek of cheap beer and good-looking women, Riga offers many reasons as to why it is worth choosing it as a holiday destination.
Including the fact that it has the largest Art Nouveau architecture in Europe, it's called the 'Paris of the Baltic', and also the 'City of Museums' as it has more than 50 of them. And, among other things, it is a very hospitable city to strangers, where visitors feel welcome, with one of the most acclaimed ballets on the international scene and a nightlife that rivals even London…
And this is exactly what we wish to focus on in our review!
During the summer, the Cathedral Square – Doma laukums – is equipped with outdoor patios, tables and chairs, and turns into a swarming meeting point.
Cafes, restaurants, temporary areas where beer is served and bars open late where fun and amusement is assured. The Skyline, on the 26th floor of the Reval Hotel Latvia, is perfect for a well-prepared drink, to be drank in good company at any time, enjoying a breathtaking view over Riga.
Vegas – Terbatas iela 2, is a casino but also and specifically a place where you can get pleasure from live music, free drinks and buffet for players, chill-out music in its Moda cafe, and shows at the night club on weekends.
On the upper floor of Casablanca, Smilsu iela h-1, you can eat and drink, while on the lower floor you can attend live jazz performances, drink cocktails and dance.
The Nautilus, Kungu iela 8, is situated in Old Riga and is a modern place with music 4 teens, house and techno: for true connoisseurs, and even snobs!
However, if you want to go back to little 'more unusual times, then go to Old Riga and try some of the Soviet-style cafes, there are not many of them left but those that are still there are always characteristic and with vodka at bargain prices.
Until 10 years ago, the capital of Latvia was rarely mentioned, but today things have changed. Like the rest of Eastern Europe, Riga is being rapidly westernized, so it is advisable to visit it as soon as possible, before the most genuine tradition of the Baltic is completely swamped by mass tourism!
Photo by liber