Europe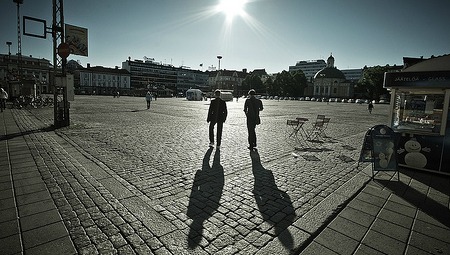 Published on April 6, 2012 | by Francy
0
A Plunge in Finnish Culture: Helsinki's Kauppatori
Kauppatori is Helsinki's central market square and is one of the most famous tourist attractions in the city. Located at the eastern end of the Esplanadi, this spacious square bears this name because of the market it has hosted since its creation. Helsinki is an attractive place for tourists due to the great number of unique historical and architectural monuments it holds.
Helsinki, World Design Capital 2012, is also special because some of its sights, including the Uspensky Cathedral, Sibelius Monument and the same Kauppatori market square, which we are going to visit today, help the guests to get closely acquainted with original Finnish culture.
So let's begin our trip and let's get into the Finnish mood at Helsinki's appealing market square.
Kauppatori is bordered by the harbour to the south – where you can catch ferries to Tallinn or the excellent Helsinki Zoo on Korkeasaari island – and the City Hall (Kaupungintalo) to the north. This outdoor market is a very charming place, bustling with activity, featuring bars and cafés – enjoy an excellent breakfast with coffee and munkki, a type of Finnish doughnut – and hosting street vendors selling fresh fruits and vegetables, fish (don't miss out smoked herring,) baked goods and souvenirs.
In the center of the cobblestone square, stands Keisarinnankivi, an obelisk topped by a bronze globe and a two-headed eagle – symbols of the Russian Empire – commemorating the visit of Alexandra Feodorovna, the last Tsarina of Russia, in 1833.
The view to the east is dominated by the Uspenski Cathedral, the largest orthodox church in Western Europe, with its striking red brick walls and green-and-gold onion domes. There are 13 onion domes in total, representing Christ and the twelve apostles.
All around, you can stroll over and enjoy wonderful buildings such as the Guard House near the Presidential Palace, the first neo-classical building in the city. Along the Esplanadi you can find more shops, bars and restaurants – including the outstanding Kappeli restaurant, serving the finest food in Helsinki since 1837.
Finally, don't miss a walk along the nearby Sofiankatu, Street Museum, an open air museum presenting the history of street development and street lighting in Helsinki in 3 main stages: the dark streets of 1800-s; mid-late XIX-th century streets lit with gas-lanterns; and 1930s street lighting. Here you will also admire old time postboxes and telephone boots of 1930s.
A long tradition (which origins are unknown) at Kauppatori, is a display of old American cars held on the first Friday of every month.
Photo by LaPrimaDonna