Top 10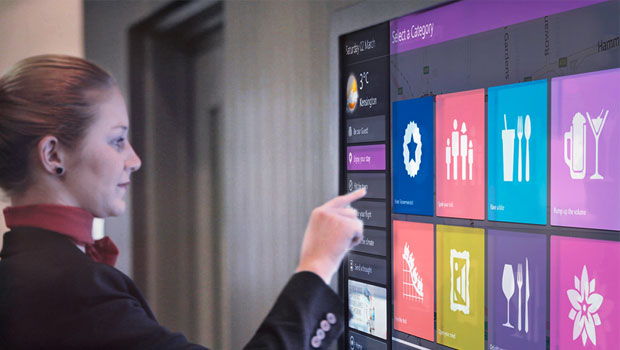 Published on June 19, 2015 | by Daniel Sarath
1
Top 10 High Tech Hotels In Europe
From smartphones to tablets, technology is changing the way we do almost everything in the digital age. It is forcing many industries to revolutionise their approach to business, adapting to meet the popularity of technology and take advantage of the opportunities it provides. The hotel industry is one of these. Many hotels across Europe are now hoping to offer a more comfortable and enjoyable experience for their customers by harnessing new technologies; using innovative gadgets of all kinds to make their services faster, smarter and simpler. Here are ten high tech hotels from around the continent applying technology in extraordinary
Blow Up Hall 5050, Pozan, Poland
Room keys are a thing of the past when you visit the Blow Up Hall 5050 in Pozan, Poland. You don't have to worry about losing your keys when you are around the city, or fear for the safety of important belongings in the rare event that it is stolen. This is because the forward-thinking hotel allows you to use your smartphone as a key card. Fitted with digital room-detecting technology, it will simply unlock the door when you are outside your room.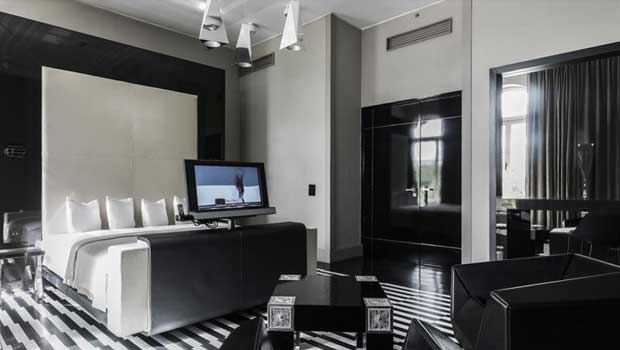 Mama Shelter, Paris, France
We often hear about the death of how we traditionally watch television with online services like Netflix and Vimeo increasing in popularity. Mama Shelter in Paris, located just a stone's throw away from the grave of Jim Morrison, has adapted to fix this in their rooms. Rather than having conventional television sets, this ultra-hip hotel has installed large iMacs. You no longer have to flick through endless channels to find something to watch after a long day of sightseeing – many of which are in a foreign language – instead you can stream whatever you desire.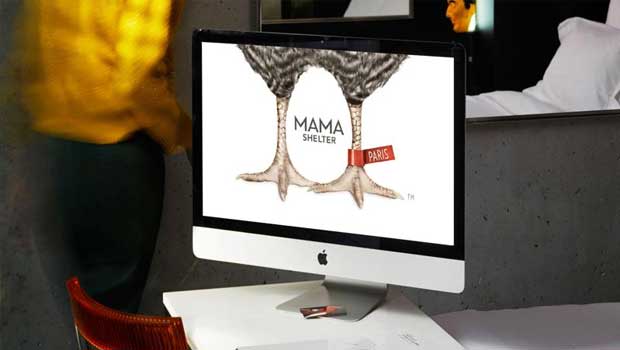 Nhow, Berlin, Germany
Berlin is one of the great music cities in the world, a city that helped shape the sound of rock artists from Nick Cave to Lou Reed. It remains a location for budding artists to find inspiration for their music and the high tech Nhow hotel located moments away from the Spree river caters to exactly this kind of person. The hotel not only includes a unique room service in which staff can provide you with instruments like keyboards and guitars, it also has its own recording studio with a stunning panoramic view of Berlin.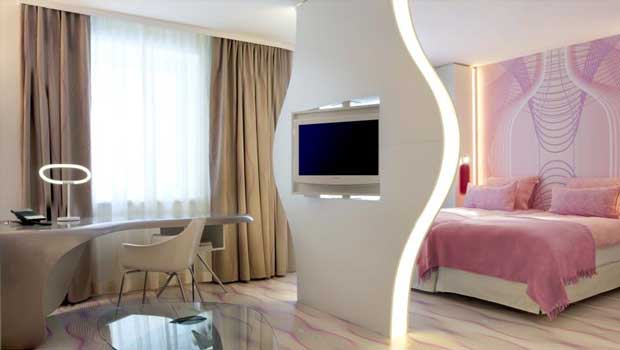 Ushuaia Ibiza Beach Hotel, Ibiza, Spain
When you check in at this beach hotel in Ibiza, located between the airport and the main party area, you will be asked to register your credit card and your fingerprints. It seems like a bizarre practice – many visitors will surely be alarmed by this when they arrive – but it is actually in service one of the coolest tech innovations in the hotel sector. When you are there, all you have to do is simply scan your fingers on a biometric sensor to pay for whatever you want – food, drinks, room service, etc. It is also extremely affordable with On The Beach listing prices from £43 per night even at the height of summer.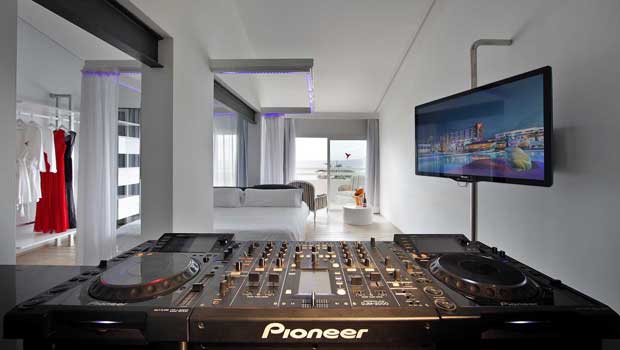 Premier Inn, Covent Garden, London, United Kingdom
The British chain of hotels, Premier Inn, have been experimenting with technology at their Covent Garden location in the heart of London. They have been trialling an app to go with your hotel room which allows you to control your stay digitally, letting you do everything from booking taxis around the city and ordering room service. Over the next two years, this will roll out across nine other London locations as well as its two hubs in Edinburgh, Scotland.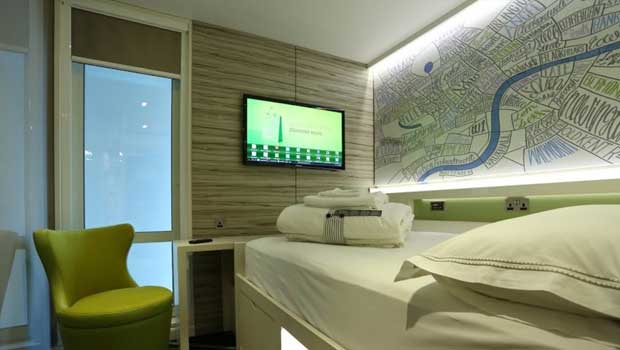 Grace Mykonos, Mykonos, Greece
Smartphones are an essential part of modern life in the digital age, but using your mobile phone abroad is often going to result in a large phone bill. So how do you resolve the problem? The Grace Mykonos hotel in Greece has an answer: their Bespoke By Grace service allows guests the option to have a phone waiting for them when they arrive from which they can make restaurant reservations, book tours and much more.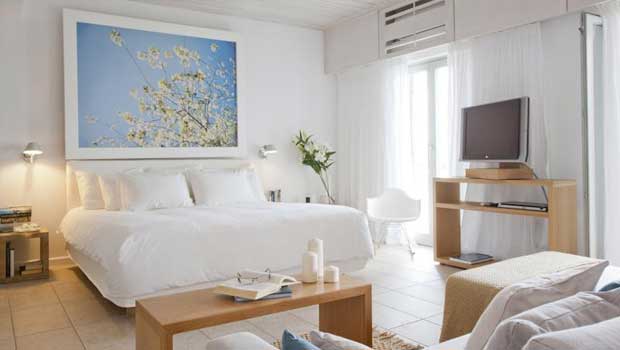 Eccleston Square Hotel, London, United Kingdom
Located near the Thames River in London, just one tube stop away from Battersea Park and the Millennium River, is the home of one of the most high tech hotels in the whole world: the Eccleston Square Hotel. It's difficult to know where to begin with this accommodation's innovations because it has revolutionised almost every stage of the hotel experience. There are fingertip controlled pads to manage the room temperature and lighting, for instance, and the accommodation is stocked with iPad 2s to contact reception, order room service or find information about the city.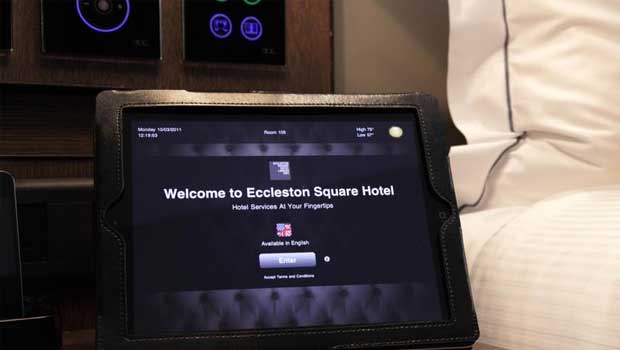 Magdalen Chapter, Exeter, United Kingdom
Located a few miles south east of London is another hotel using technology in a great way. From the outside, the Magdalen Chapter in Exeter looks as traditional as any hotel you could imagine with its brick walls and old fashioned courtyard (it was formerly the West Of England Eye Hospital). But when you step inside it couldn't be more contemporary – no more so than in its "no paper" approach. You won't find a scrap of paper around this Exeter accommodation with everything from checking in to restaurant menus done digitally.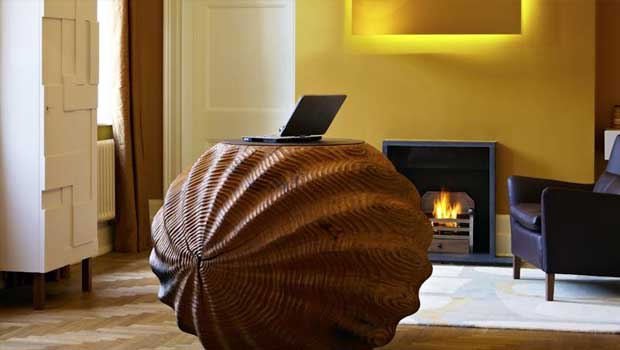 Abadia Retuerta LeDomaine, Riberia Del Duero, Spain
Forget about iPads in every room. Abadia Retuerta LeDomaine, a hotel surrounded by a beautiful landscape of vineyards in the Duero Valley of Spain, is taking things one step further. For no charge, guests are able to rent a Google Glass headset for taking photos and videos during their stay and finding more information about popular tourist destinations surrounding the 5 star hotel. It is the first hotel in Europe to provide this service.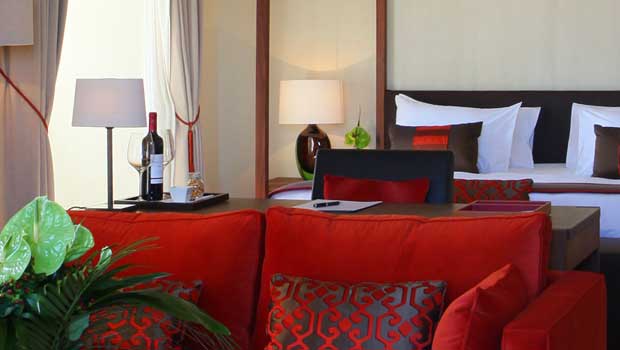 NH Collection Madrid Eurobuilding, Madrid, Spain
Any traveller will be able to tell you the frustration that chargers pose – from having to carry a number of adapters to the unnecessary bulk in your luggage. Wouldn't it be great if there were chargers waiting for you at your hotel room when you arrive? It's doesn't seem like such a difficult or costly idea – surely they're more useful than a TV in the room – and yet very few places do this. NH Collection Madrid Eurobuilding isn't one of them. Chairs, beds and desks all have built-in chargers when you stay with them in the Spanish capital.