Spain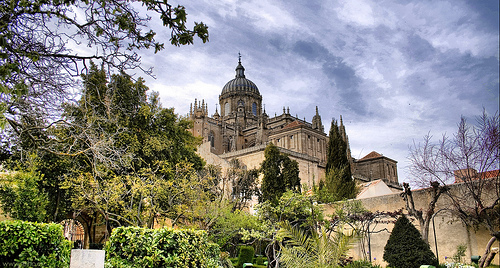 Published on October 20, 2011 | by Andrea Guerriero
2
Salamanca travel guide, welcome to the Golden City
Global, magnificent, erudite, young and… Golden: Salamanca is located in central Spain, about 200 km from Madrid. This city is one of the most beautiful cities in the Spanish hinterland, which is worth visiting for many reasons.
Salamanca is known for its spectacular monuments and palaces, all built of the same glowing sandstone which earned it the nickname La Dorada, i.e. the Golden City, as in the midday sun it shines like gold.
The city is home to one of the oldest universities in the world, one of the best examples of Renaissance architecture in Spain. Elected European Capital of Culture in 2002, Salamanca is known as the City of thought and knowledge, but here you will also find art and beauty. Simply walking the streets, you can breathe centuries of history, art and knowledge. Its historical centre – declared World Heritage Site by UNESCO – hosts a magnificent monumental wealth, with beautiful examples of architecture in different styles.
Plaza Mayor de Salamanca, built in Baroque style by Alberto Churriguera, is currently one of the most lively and popular squares in Salamanca. Moreover, the cathedral, actually two temples joined together. On the one hand, there is the Old Cathedral, in the Romanesque style, which outstands for its "Cock Tower," for the wonderful frescoes and the beautiful tombs of bishops and nobles. In the New Cathedral, you will be enchanted by the beautiful Baroque architecture and its Renaissance paintings.
The city also offers many possibilities to those who love sports: playing golf – Golf Villamayor or Golf Resort The Valmuza – or skiing – just 70 miles away, in the Sierra de Bejar, there is the ski resort of Covatilla – are some of the activities you can enjoy in Salamanca, but you can also walk in gardens full of charm – like the famous Calisto and Melibea Garden – and discover beautiful treasures in the surroundings.
As for all Spanish cities, Salamanca boasts a lively night life and has numerous restaurants and bars that allow you to try dishes of all kinds. Many are concentrated in the historical centre: here, you can taste both traditional dishes and international cuisine. Also in the downtown area you can enjoy one of the favorite culinary habits of the inhabitants of Salamanca: tasting tapas. An informal and fun way to enjoy Aperitivo time, which allows you to try the different specialties of each bar.
Photo by seiho