Exhibitions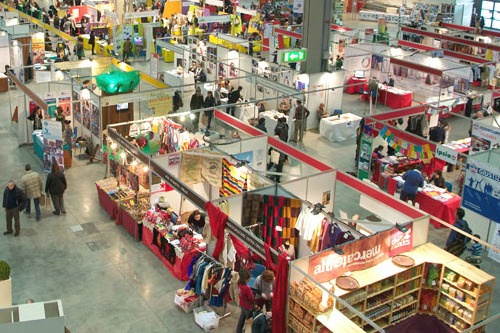 Published on November 8, 2013 | by Germanico
0
November trade shows in Germany
Autumn has arrived. Despite of this, the month of November is full of events of great importance, such as the two exhibitions Medica and Compamed, both to be held at Düsseldorf Fair. More than half of the visitors to both these trade shows are foreigners, and the events are synonymous with absolute excellence for the medical technology industry.
Agritechnica in Hannover, boasts the same popularity among visitors; this trade show is the number one in the world for the agricultural mechanization industry, with exhibitors and visitors from every country in Europe and elsewhere. In a different sector, but still as celebrated as the previous exhibitions, Cologne Fine Arts is going to take place in Cologne November 20th through 24th. During this fair the world's major art galleries and collectors will meet to discuss the elements of classical antiquity, vintage design, old masters, contemporary design. Finally, an opportunity for fun and shopping is Essen Motorshow, where fans can watch the latest sports models, meet famous drivers and watch spectacular car races taking place on the race track inside Messe Essen.
Agritechnica, Hannover Messe, November 10-16
Agritechnica is a major trade show in the field of agricultural mechanization. The 2074 exhibitors coming from 47 countries will gather in one single place to present the latest novelties for the market. During the event, the 370 best innovation products in the industry will be awarded with the DLG award (Deutsche Landwirtschafts- Gesellschaft ), by the international jury of the "German Agricultural Society."
This trade show is a unique opportunity to discuss the future of the agricultural sector through a prestigious international program of specialized events, conferences, workshops and debates. This is the place where technology trends are discussed and important issues are addressed in debates regarding the future of agriculture and agricultural technology.
Among the novelties of this edition there will also be an international conference about VDI / MEG agricultural mechanization as well as an international conference on "Agricultural markets in 2014." Moreover, a new area will be inaugurated with the name "Ag Machinery International – Access to emerging markets." with the participation of technicians from the markets of southern countries like Africa, Russia, Ukraine and Kazakhstan, as well as from India and China. It will address aspects of market potential, market access, funding and technical requirements to access them. Another novelty will be the European Young Farmers and Students Day, which will be organized by "Young DLG " with national and international partners for Agritechnica 2013.
November 10 and 11 are the Preview Days reserved for agricultural machinery dealers, major buyers in the sector and specialized press.
Medical and Compamed, Messe Düsseldorf, November 20-23
The largest trade show for medicine, which has showcased for 40 years all the procedures and protocols of medical treatment in outpatients and inpatients. This year, as always, it renews the record number of exhibitors, which are going to be 4,500 from 70 different countries, to present the latest news about materials science, process engineering, nanotechnology and medical technology in general.
Medica, world forum for Medicine, will deal with all the novelties in the implants industry, including spare parts or human tissue replacements. However, the cornerstones of the event are going to be the five conferences that gather thousands of technicians and hospital doctors. Topics are the following:
Education and training: presents the importance of communication and of the proper use of cognitive tools for the growth and development of medicine. Half of registered participants come from abroad.
German hospitals Congress, Kongress der Gesellschaft Deutscher DKT: thanks to the conference on Education, this is one of the pillars of the event. It deals with technology and hospital management systems in the German healthcare system.
European hospitals Conference: will be attended by associations in the management of hospitals and hospital doctors of all European countries. This year's theme is: "Implementing the EU Directive on patients' rights and access in Europe's hospitals."
1st Sports Medicine Conference: a confrontation between sports doctors, professional athletes, and industry representatives to make the point on therapies for the treatment of sports injuries. The conference language is English.
1st International Conference on disaster and military medicine: a conference focused on a topic of extraordinary importance, emergency technologies and procedures and management issues related to specific events.
Cologne Fine Arts, Koelnmesse, November 20-24
What is a classical work of art? It's an ageless work, so infinitely beautiful that people fall in love with it and cherish it forever. In this way, classics tell us how the past can be transformed and become future.
Events like Cologne Fine Arts – one of the most famous exhibitions in the world for ancient and modern art, applied art, works on paper and design – tell us about art surviving its time. The fair has grown to become a classic itself in its field, as it's the reference point for artists, collectors, gallery owners and all those who appreciate the true values ​​of art.
Prestigious galleries and art dealers will showcase fascinating works surfing through centuries of art and history, crafts, jewelry and design. This view broadens the horizon of visitors leading them to the comparison of different styles and different eras. In this way, curiosity is sown in people's heads, in order to make them go beyond their knowledge and artistic experience to try something new and unknown. It's a really stimulating journey guided by the hand of timeless objects through different eras and styles.
Essen Motor Show, Messe Essen, November 30 – December 8
Autumn is definitely not time for hibernation for German car enthusiasts and fans of motor sport in general. Indeed they will all meet at Essen Motor Show to shop in the market area of the Fair, where they will find all the accessories available for each car model, including exhaust pipes, tires, paints and colored films for car windows and bodywork.
Fan Motor Show is the place where visitors will be able to meet their idols in a setting that recreates the pit lane of a race track. In the SME area, instead, those who are looking for a very stylish and high-performance car, will find all the sports cars available by major brands. In the same pavilion it's possible to enjoy the area Classic cars, a display of cars that are real treasures on four wheels. The pavilion Special Design will present 20 car projects ​​by as many famous designers.
In the DMAX Motorsport Arena, visitors will experience action and adrenaline with the final stage of the Carrera Challenge Tour and with the final of the spectacular Gymcana Drif Cup 2013, half way between acrobatics and skills.