Spain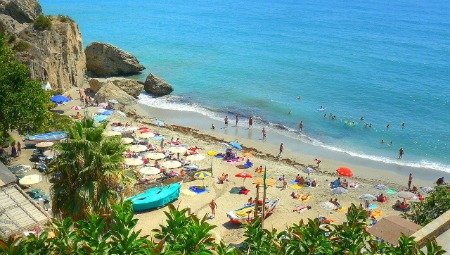 Published on May 2, 2014 | by Elena
0
Holidays in Malaga, a brief travel guide
A jewel on the Spanish Mediterranean, a cosmopolitan city in the world renowned Costa del Sol, a place where tourists can find what most people come to Spain for, that is sun and sea, food and movida: welcome to Malaga – the perfect opportunity to indulge in a care-free holiday or a relaxing getaway.
Situated on the Costa del Sol, in the southern part of Spain, Malaga is a city alive with activity, so much so that it may be impossible to list all its attractions in such a short time. Whatever you are looking for, be it history, sports, night life or something for the whole family, you will find it in this Spanish city.
Before heading to Malaga's dramatic beaches, take some time to visit some of the more interesting cultural landmarks of the city, including the Picasso Museum – near Picasso's birthplace at the Plaza de la Merced (free opening every last Sunday of the month); Old Town – the cultural hub of the city, which has been pedestrianized to allow easy access to the lovely boutiques and the outstanding restaurants and bars; La Alcazaba – an immense 11th century Moorish military fortress built on the remains of a Roman fortress, and the Roman Amphitheatre – dating back to the 3rd century, situated at the foot of the fortification.
Beside Malaga's beaches, locally accessible beaches in the area include: Torremolinos – popular with the tourists since the 70s; Fuengirola – with more than 8 km of beaches, and home to a medieval Moorish fortress; Nerja – about 50 km east of Malaga, boasting several beaches set in coves beneath cliffs; Marbella – with Playa de la Bajadilla, Playa de Fontanilla, and Puerto Banus.
If you're traveling with your kids, spend your Malaga beach holidays on Playa de la Malagueta town beach – 5 minutes walk away from the city centre, equipped with play areas for children, or enjoy snorkeling across the reefs off Playa Acias in Pedregalejo. Pedal boats can be rented at Playa Caleta and dolphin watch cruises are provided on glass-bottomed catamarans sailing along the coast.
Enjoy the late afternoon and evening spending your time downtown. Calle Larios will be the must-see destination for travelling bargain-hunters. The city centre of Malaga is a great place to just sit with a cup of coffee or an ice cream. Here you will also find a number of specialty restaurants and clubs, although the real movida after dark is towards the beaches again, with Benalmadena bursting into life with trendy bars, or Torremolinos with plenty of discos and clubs.
Last but not least, delight your palate with Spanish great food and wine. Roman, Moorish and Spanish influence come through in Malagan tapas, but the foremost contributor to the city's cuisine is the sea, as the town's specialties predominantly include seafood of all sorts.
Finally, if you happen to be there in early August, don't miss the Feria de Malaga – a 9-day festival with a great firework display at midnight, music and dancing, fun fairs and nightly concerts.
Are you planning your summer holiday in Malaga? Take a look at the best hotel offers in Malaga and browse all the available flights to Malaga to really enjoy one of the most beautiful towns in Costa del Sol.