Festival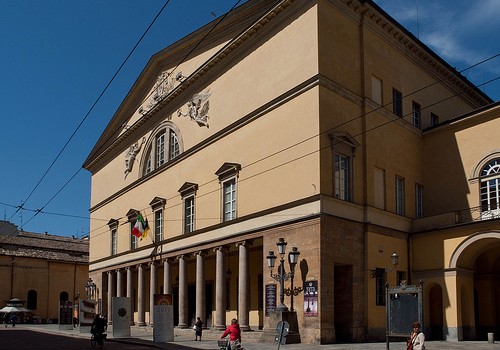 Published on October 14, 2011 | by Andrea Guerriero
0
Parma events, enjoy the Verdi Festival
When the city of Parma and its land, its colors and its scents deeply touch the strings of our imagination, in the month of the anniversary of the birth of the great composer, the Regio Theatre of Parma and Verdi's lands celebrate the history, culture and traditions of this city renewing, also in 2011, the great productive and artistic commitment of the Verdi Festival.
From October 1 to 28, the days vibrate with music at the Regio Theatre of Parma, at Busseto and in the theaters and the most charming places of Verdi's lands – Fidenza, Fontanellato Fontevivo, Reggio Emilia – once again with an unparalleled concentration of great shows and events attended by prestigious artists and performers.
Produced by the Regio Theatre in collaboration with the Ministry of Heritage and Culture, in the twenty-eight days of the Festival you can admire the best that Verdi's interpretations of our times has to offer: among the most prestigious actors Francis Meli, Vladimir Stoyanov, Kristin Lewis, Svetla Vassileva, Dimitra Theodossiou, but there will be also singers, young performers, conductors and directors of international fame.
The Verdi Festival 2011 was inaugurated by the opera A Masked Ball, which will be repeated in succeeding dates until October 28th. The second title of the Festival is Falstaff, staged in the stunning Farnese Theatre in Parma. Followed by Requiem Mass – which Verdi dedicated to the memory of the beloved Alessandro Manzoni.
Finally, on the podium of the Verdi Theatre in Busseto there will be the great Michele Mariotti, for the direction of The Troubadour in a concert form which will involve young talents selected in recent years in more than four hundred auditions.
The festival will also be highlighted by moments of indirect encounters with the great composer, expressed through photographic exhibitions (The Troubadour by Graziella Vigo), or educational activities for children (the initiative Il Gioco dell'Opera, the teaching laboratory trucchi del mestiere or the contest Do you know Verdi?)
Also this year the Festival Verdi welcomes some valuable concerts in "Traiettorie," an international presentation of modern and contemporary music in tune with the sensibility for modern in Verdi's music.
If you happen to pass by this area in this period, do not let the language gap block you, after all, the language of music, like the language of art, is international and will be able to speak with ease, your language as well.
Photo by Franco Folini